Attending Student Affairs Stay Day on Wednesday June 10, 2015?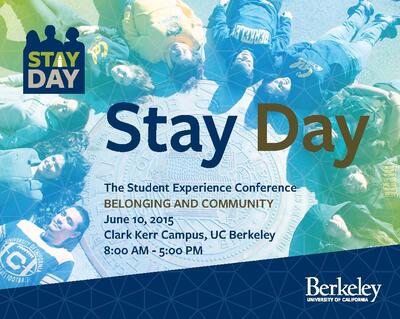 Stop by the Cal Answers That! Poster Session: 8:00am - 8:30am
Conference Center Hallway at the Clark Kerr Campus
Join the Cal Answers team and learn how to quickly and easily access data about undergraduate applicants, registered students, and more. Ever needed to know the demographic mix of students in your major, which courses have increased in demand, or how many students are Pell Grant recipients? Cal Answers That!
Cal Answers team members will be available between presentations to answer questions in the Conference Center Hallway at the Clark Kerr Campus.
Also as part of Stay Day Office of Planning and Analysis (OPA) staff will be delivering presentations on:
Graduation Rates: Explaining the "Extra Semester" - Amber Machamer, Executive Director & Lexi Shankster, Institutional Research Analyst
Cultivating Community: Collaborating to Promote International Student Success - Sereeta Alexander, Institutional Research Analyst
Check out the complete program for Stay Day here.