Welcome to Cal Answers
Cal Answers is an analytical tool allowing UC Berkeley to view centralized, integrated information from various campus systems. The tool makes data accessible to all, enabling staff, faculty, and students to locate reliable, consistent answers to critical campus questions. Whether you're performing big tasks like developing your unit's annual budget or managing your aid offerings - or you're conducting day-to-day inquiries like reviewing last month's on-contract spending or researching your students' graduation rates - Cal Answers helps you to quickly and easily find the data to inform your work.
Click wheel for a larger image:
Data Refresh Schedule
Please review the Data Refresh Schedule to identify when campus data is available in Cal Answers for the different subject areas.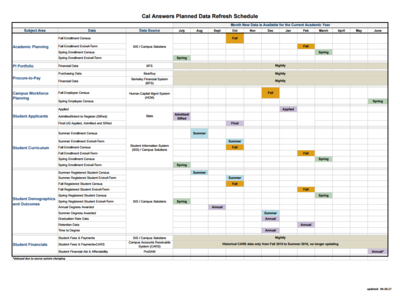 Student Data Subject Area Dashboard Map
Cal Answers Global Dashboards for student data provide easy access to UC Berkeley data to answer questions related to our student Applicants, Curriculum, Demographics & Outcomes and Financials.
Our Cal Answers Student Data Subject Area Dashboard Map can help you identify the reports and common filters available for each of the student subject areas.