Cal Answers
The tool ...
Helps us make better decisions as we assess new opportunities, set priorities, and deal with resource constraints. 
Allows us to communicate more clearly as we have one set of facts and definitions. We have worked extensively with data providers to ensure that these are the best answers to use in the topics addressed.
Provides metrics that are critical to managing and monitoring progress towards meeting our goals.
Helps fulfill the goal of the Institutional Data Management and Governance initiative (IDMG) to make campus data easily accessible, reliable, consistent, and secure to support informed planning, decision-making, and communication.
Cal Answers provides interactive dashboards and reports, allowing you to see information about the entire campus and drill down to specific departments or other subsets of data. You can rearrange or delete data columns, sort by different parameters, and filter the data in different ways so the tool meets your needs. If you want to go further, you can develop your own reports and dashboards within the Student Demographics and Outcomes subject area.
Currently campus administrators maintain isolated caches of data relating to their own areas, so when questions about campus operations arise, analysts spend most of their time searching for accurate data and they often find metrics are reported differently in different places.
In contrast, the newly developed Cal Answers tool reports data directly from the University's enterprise data warehouse, a single repository for integrated information relating to cross-campus topics like admissions, enrollment, financial aid, human resources, and faculty research. Now, when the campus needs to answer critical business questions, they can trust Cal Answers provides one accessible, consistent, reliable answer to their question. 
Getting Started With Cal Answers
Navigating Cal Answers
Cal Answers has three options for quickly editing the filter selections within a dashboard.
Select the drop down arrow on the Reset button to display:
Reset to last applied values.  All dashboard filters will be reverted back to the selections made prior to the last Apply.
Reset to default values.  All dashboard filters will be reset to their default values for that particular dashboard as set by the campus or by the user if they have assigned a new default view.
Clear All.  All dashboard filter selections are set to --Select Value--.
Yes, there are two ways you can share a filtered and formatted dashboard report with a colleague.
You can create a custom URL or Bookmark Link in Cal Answers. Check out our Creating Dashboard Bookmark Links Job Aid for step-by-step instructions for creating, sharing and accessing a dashboard bookmark link.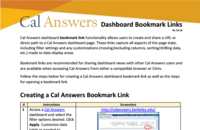 Another option is to create a Cal Answers' Briefing Book which allows you to save a static snapshot of your dashboard page(s) that includes the applied filters and any data table formatting in one or more PDF files. Once created, you can add to, reorder and /or delete dashboard content to update your Briefing Book.  You can download your Briefing Book to share with others for review offline.
Check out the Cal Answers Briefing Books job aid for step-by-step instructions on:
Creating a Cal Answers Briefing Book
Locating a Cal Answers Briefing Book
Adding Content to a Cal Answers Briefing Book
Downloading and Printing a Cal Answers Briefing Book
Editing a Cal Answers Briefing Book

Watch the How to Create a Briefing Book and How to Edit a Briefing Book videos for more information.
Drilling, Moving & Sorting Data
Right-click the column header you would like to delete and select Exclude Column.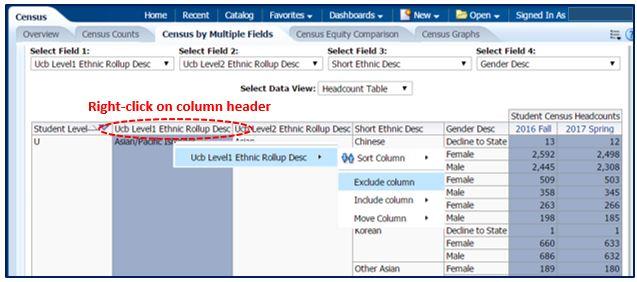 To display an excluded column, right-click any column header and select Include Column and then the name of the column you would like to display.

Watch the video, Cal Answers: Changes You Can Make to Data Tables for step-by-step illustrated instructions on working with data tables. 
From within the data table, move your cursor over the column header you would like to move until it displays the four-headed navigation arrow.
Click and drag to the location you would like the column to appear and release.
Navigate to the data table, move your cursor over the column header of the column you would like to sort in the table. Click on the small arrowheads that pop up to re-sort. the column of data in ascending or descending order.

Check out the Cal Answers Getting Started Guide job aid for more details on sorting data in tables.
Filters
Within the Undergraduate Applicants and Student Demographic & Outcomes subject areas, you can find International Student counts are found by filtering for Level 1 Ethnic Rollup, not Residency Status.

A snapshot refers to a particular point in time at which Cal Answers extracted data from the source system. The CEN or Census snapshot happens every Fall and Spring semester on the 25th day of instruction (10th day of instruction for Summer sessions). This is also the deadline for undergraduates to add or drop classes.
The End of Term or EOT snapshot is taken at the end of the academic term after 
grades have been submitted. It includes the students who were registered at that time 
regardless of whether they have been counted in the Census.
Yes. Navigate your cursor to the Page Options menu icon in the upper-right corner next to the question mark and choose the Save Current Customization option.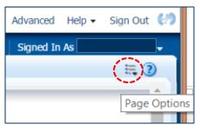 Enter a name for your current display of customizations. When you return to this dashboard page and would like to apply the customization you have previously saved, go to the same Page Options menu and select Apply Saved Customization to bring up that particular filtering criteria or data set you would like to work with.

Watch the Cal Answers: Page Options Menu Customizations video for step-by-step instructions on saving, applying, editing and removing your customized dashboard views.

Printing & Exporting
On any Cal Answers dashboard tab, you can print the entire page, including all filters, by using the Page Options menu. This 3 bullet points icon is located in the top right corner of the page, right next to the question mark in the blue circle.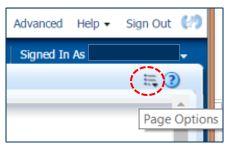 The first option on the menu, Print then gives you two selections:
Printable PDF

Printable HTML
The printed page includes a list of filters applied.
Both of these print options will only print what is currently displayed on the page. If there are additional rows of data not displayed, you will need to click the Display Maximum blue double-sided arrow to expand to show all rows


The  Print and Export links that appear directly below many tables are charts are a standard that we're working toward. These are more restrictive than the Page Options menu, in that they're specific to a section of each page. Where Print links don't appear, you can Export to PDF, which may actually work better than the Print link in cases with a large table.

Watch the video, Cal Answers: Features You Will Find Below Data Tables for step-by-step illustrated instructions on exporting and printing data tables.
Yes. There is a link at the bottom of each report labeled Export.
To download the complete report with its formatting and totals, your options are:
Excel 2003+
PDF
PowerPoint
Web Archive.
The raw data can be exported as:
Comma Delimited
Tab Delimited
XML
Note that downloading to Excel isn't currently supported on a Mac; you can, however, download as delimited text and open that in Excel for Mac.

Watch the video, Cal Answers: Features You Will Find Below Data Tables for step-by-step illustrated instructions on exporting and printing data tables. 
Weekly Enrollment Manangement
Weekly snapshots range from Week -30 to Week +18. These refer to the weeks leading up to the start of the semester and through to the end of the semester.  Week 0 contains the official start day of the semester, and Week +01 contains the first day of instruction.  Weekly snapshots are taken on Saturday morning of every week during the year.
We have additional resources available if you would like to learn more:
Student Demographics & Outcomes
Yes, the Multiple Majors dashboard includes tabs that report on the count and percentage of registered undergraduates students with multiple majors for the UC Berkeley campus as a whole as well as for each undergraduate major program.
You can learn more on the Cal Answers Student Demographics and Outcomes Multiple Majors section on our website and also from our Multiple Majors Dasboard Wiki report documentation.