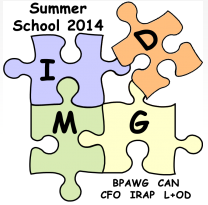 The IDMG's goal is to make institutional data easily accessible, reliable, consistent, and secure, in order to support informed planning, decision-making, and communications. To further that goal, the Business Process Analysis Working Group (BPAWG), the Cal Assessment Network (CAN), the Chief Financial Officer (CFO), Learning + Organizational Development (L+OD), and UCOP's Institutional Research & Academic Planning are partnering to host IDMG Summer School 2014. This year's summer school will focus on tools and techniques for telling the story of your data.
We encourage you to RSVP for all of the following sessions through the Learning Management System, at http://tinyurl.com/ucblms(link is external) (search for "IDMG").  Although this isn't required for most sessions, it does help us with planning, and it serves as a record of your professional development in the LMS.

Check out tweets and photos at #IDMG2014
June 6 - You Don't Need to Be an Artist: How to Find & Sketch the Story in your Data
FRIDAY, JUNE 6TH  --  

10:30AM-NOON  --  

150 UNIVERSITY HALL  --  PRESENTED BY CAN
Rosemarie Rae - Associate Vice Chancellor-Chief Financial Officer and IDMG Sponsor

Bernie Geuy - CalCentral's Product Manager for Student Affairs
We'll also be announcing this year's Summer School "You Tell the Story" data storytelling" contest!
June 20 - Make Your Data Come Alive: Visual Design's Role in Creating Compelling Visualizations
FRIDAY, JUNE 20TH  --  3:00PM-4:30PM  --  150 UNIVERSITY HALL  --  PRESENTED BY BPAWG

Allison Bloodworth - Senior User Experience Designer, Educational Technology Services

Hulda Nelson - Lead Designer, Public Affairs

Laurie Frasier - Designer, Public Affairs
July 18 - IDMG Summer School Symposium
FRIDAY, JULY 18TH  --  10:30AM-3:00PM  -- 

 

150 UNIVERSITY HALL

Pamela Brown - Vice President of Institutional Research & Academic Planning, UCOP
Lunch and Award Presentations to Winners of the "You Tell the Story" Data Storytelling Contest
David Riemer - Executive in Residence, Haas School of Business and Former VP Marketing, Yahoo! Inc.
August 1 - Can You Hear Me Now? Using Audience Analysis to Target Your Message
FRIDAY, AUGUST 1ST  --  10:30AM-NOON  --  150 UNIVERSITY HALL  --  PRESENTED BY CAN
August 1, 2014 - The audience is the star of the show!
Do you want your presentations to be more persuasive? Did you ever wonder why your audience didn't react the way you hoped they would?  In this interactive session, Stephanie Metz taught us about the key to great presentations - understanding your audience.  Using the audience analysis tools that she discussed, you can make every presentation better!
Follow us and check out session photos on Twitter:  #IDMG2014(link is external)
Session Links
August 15 - Cutting Through the Noise: Insight into Communications at Berkeley
FRIDAY, AUGUST 15TH  --  3:00PM-4:30PM  --  150 UNIVERSITY HALL  --  PRESENTED BY BPAWG

Introduction by Amber Machamer - Executive Director, Office of Planning & Analysis
Panel discussion moderated by Greg Dubrow - Director of Research & Policy Analysis, Office of Undergraduate Admissions
Panelists include:
Jean Calise Bednarz - Director of Communications, Office of the CFO
Ben Gold - Communications Manager, Office of the CIO
Kim LaPean - Communications Manager, University Health Services
Ellen Topp - Director of Communications, Vice Chancellor-Student Affairs
Brought to You by the IDMG Summer School 2014 Planning Group
Russ Acker, Institutional Research Analyst, Office of Planning & Analysis
Alfred Alipio Jocson, Reporting Analyst, Budget Office
Josh Blatt, Program Manager for Institutional Data and Analytics, Office of Planning & Analysis
Pamela Brown, Vice President of Institutional Research & Academic Planning, UCOP
James Dudek, Director of Organizational Strategy, Student Affairs Information Technologies
Katie Dustin, Business Analyst, Student Affairs Information Technologies
Stephanie Metz, Finance, Planning, and Analysis Manager, Operational Excellence Program Office