PI Portfolio Phase 3: Projections - enhancements available in PI Portfolio
PI Portfolio has been updated to include enhancements that will allow users to view detailed and current actuals and projected balances for faculty designated funds. PI Portfolio is a Cal Answers tool that provides a comprehensive picture of fund balances, expenses, and budgets for faculty-managed funds and sponsored awards. Training materials and more information on the enhancements are available on the PI Portfolio website.
Watch the PI Portfolio overview video for a brief look at the new features.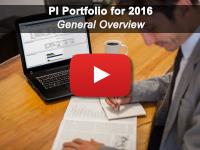 The enhancements include
Increased visibility in Transactions

Transactions are viewable down to the detailed level

Filters and reports can be customized and saved according to preferences

Increased functionality for Projections

Link to the projections input form with integrated personnel (HCM) data displays each projection with line item comments and description

Displays personnel by dollar amount or by distribution %

Three views: Anticipated Funding, Non-Compensation Expenses, Personnel